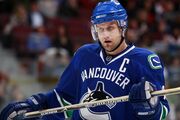 Markus Näslund (born July 30, 1973) is a Swedish ice hockey general manager for Modo Hockey and a retired professional winger. He played in the National Hockey League (NHL) for the Pittsburgh Penguins, Vancouver Canucks and New York Rangers, as well as in the Elitserien with Modo Hockey. Nicknamed "Nazzy" by Canucks fans and "Macke" or "Mackan" in his native Sweden,he was known for his offensive skills, particularly his wrist shot and stickhandling. Naslund still currently holds the most points scored by a Vancouver Canuck.
After playing junior hockey within the Modo organization, Näslund turned professional with the club's Elitserien team in 1990–91. Selected in the first round, 16th overall by the Penguins in the 1991 NHL Entry Draft, he joined the NHL in 1993–94. Näslund was traded to Vancouver in 1996, where he spent 12 years, including a team record 8 as captain. He received the Cyclone Taylor Trophy as the Canucks' most valuable player five times and the Cyrus H. McLean Trophy as the leading point-scorer for seven consecutive seasons—both club records—en route to becoming the franchise leader in goals and points. In 2008, Näslund signed with the Rangers, where he spent one season before announcing his retirement from the NHL.[2] In 15 NHL seasons, Näslund was thrice First Team All-Star, chosen in 2002, 2003 and 2004, and a Lester B. Pearson Award recipient, winning in 2003. He was also a Hart Memorial Trophy nominee in 2003. Midway through the 2009–10 season, he returned to play for Modo before retiring a second time.Internationally, Näslund has competed with the Swedish national team in two European Junior Championships, two World Junior Championships, four World Championships, two World Cups and one Winter Olympics. He holds the World Junior record for most goals scored in a single tournament, scoring 13 in 1993, while also winning back-to-back silver medals at the competition. In World Championship play, he won a silver medal in 1993 and two bronze medals in 1999 and 2002.
The Canucks retired his number 19 jersey prior to a home game against the Tampa Bay Lightning on December 11, 2010. By having his jersey retired, he became the third player in team history to receive the honour, after Stan Smyl and Trevor Linden.